Hi Volties!
We have new
crate sets
, a
legacy set
, and a few tiny additions that just hit
OMG Imports!
*An official surge from @Spark: with full details and additional previews will be coming soon!*

---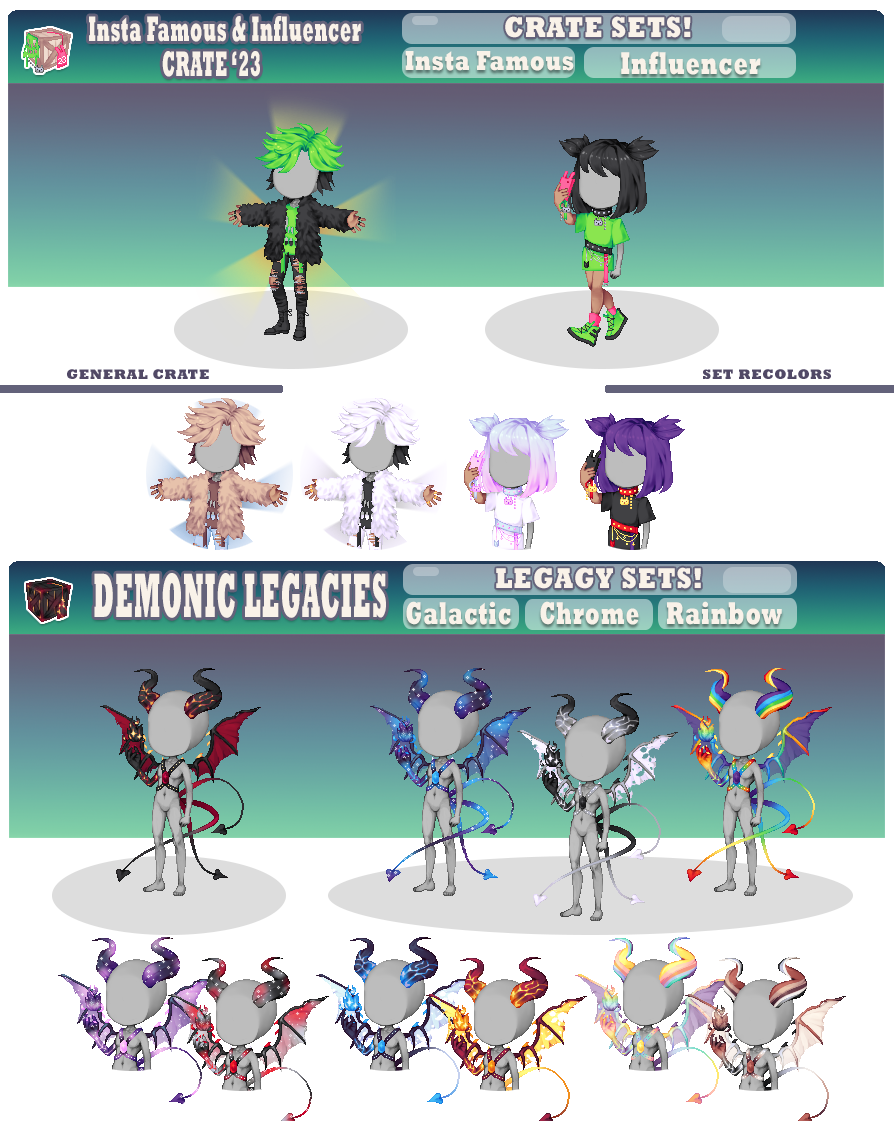 Crate Sets


Insta Famous | Influencer
---
Legacy Sets
The next Legacy Crate set to return is
Demonic
!
The Demonic Legacies crate grants the blueprint or voucher.
*Blueprints can be used along with one of the Demonic Legacies to craft the Origional Demonic.*
You can obtain one of the following Demonic Legacies with a
voucher
:
Demonic Galactic Legacy
Demonic Chrome Legacy
Demonic Rainbow Legacy
---
Bundle
---
"A few tiny additions"
If an entire set or the new legacy patterns just aren't your thing, check out these
Solid Variations
!
Solid variations are select poses from the Legacy set that stand alone as a set in all colors from Voltra's palette (w/ the exception of default tones on a case by case basis).
Think of these as "Premium Commons."
They cost 100

each & are not obtainable any other way.
They will leave shops when the Demonic Legacy Leaves shop.

Demonic Solid Horns

Demonic Solid Wings

Demonic Solid Tails
*These will appear in the same tab as your crate sets*
---
All items will leave shops SEPTEMBER 1st, 2023
Head on over to the
donation page
to grab some Ohms!
---
This was a breif announcement to inform you all of the new items before the Official Surge is published with supporting previews and information.
Thanks Volties!
Enjoy your weekend!