Apparently it's a no fly zone today, Volties! Which sucks, cause it means I had to walk to the broadcasting tower today...

I'll get over it - after all, it's a day of celebration! No no, not here in our city, but out there in the outernet!
It's independence day and we realize that's one country in particular, but we want to take the time to celebrate everyone wherever you may reside.
---
Strut your pride and independence loud and proud with the
Flags of the Nations
knick-knack.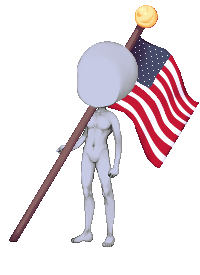 *Flag of The United States shown in preview, more nations to be added.*
Pixels by Fozzy
Voltra wants to represent all members of it's community, so please comment below with the country you'd like to represent as we work on additional flags for this knick-knack!
You may purchase extras from
OMG Imports
through July 14th, 2019.
---
Well, I'll see you Volties come the Common Surge on Monday, July 15th.
Have a wonderful day and for those celebrating, be safe!
---
Spark:
Hey Volties ~ I'm here to report on an update for the Flag of Nations Knick-Knack.

This first expansion of the Flags of Nations is a batch of 10 National Flags!
The following nations are now representable!


Canada

France

Germany

Japan

Netherlands

Norway

Puerto Rico

Russia

Scotland

Sweden

The following nations will soon be representable:


EU

Welsh

South Korea

Philippines

We will continue to update you as additional expansions are made to allow all members of our community to represent their country!
And please let us know if your nation is not yet on the list, we'll gladly add it to the expansion!
---
Lilypoo:
11 more flags have been added to the Flags of the Nations!
England, Wales, Belgium, Brazil, Principality of Sealand, South Korea, Philippines, UK, EU, Pride and Pastel Pride!

Enjoy and please let us know if you have any concerns!

Edit: So sorry I forgot to add, credits by Fozzy & Lilypoo!