It's a new month here at Voltra and you know what that means - Crates! Yes, October is here and with it some exciting new items for our Volties! We think you'll really like what we have in store for you this month, so hold tight while we introduce our newest crate items to you all!
---

October Crates Have Arrived!

It's aliiiiiiiiiiiive! Some mad doctor has conducted some strange experiment with
In Stitches
!
Perhaps
Surgical Study
is to blame? They sure seem to have the tools for it...
To balance it out a little, enjoy the
Fleurs d'espoir
and all the beauty it has to offer!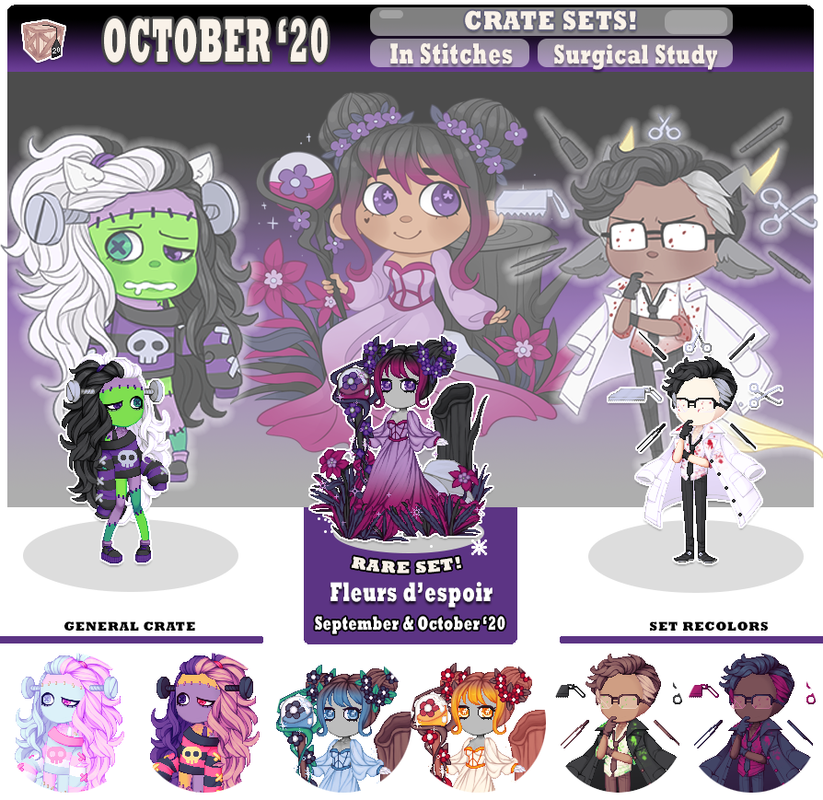 In Stitches | Ghost
Surgical Study | Ghost
Fleurs d'espoir | Alethna

Let's not forget to thank our Item Technicians for uploading:
Kiwi, and Hadsvich
Hurry on over to
OMG Imports
to get yours today!
October Crates can be purchased from Ohm-my-gosh imports for 250
each.
Visit the donation page if you're like to purchase ohms.
.
*Reminder: You can wear 2 poses from a single set.
*Fleurs d'espoir will be replaced with a new rare set in November 2020.
Check out
A Guide to Voltra Crates
for more information.
---


Collector's Set!


Still running as our current Crate Collector's Set we have this playful little number that features a futuristic look and is packed with a lot of speed! Say hello to the
Bubblenaut
!

September 2020 Collector's Bundle
The July Collector's Bundle can be purchased from
OMG Imports
for 3,500

through July 31st , 2020.
The Collector's Set, Bubblenaut, will be available in all 2020 Crate Collector's Bundles July through December. Then, a new Collector's Set will be introduced come January 2021.
Not familiar with the contents of a Crate Collector's Bundle?
---
Don't forget about our Plasma Orb Collector's Set, Hedera Fey!
You can obtain this set from the current Plasma Orb Collector's Bundles.
Plasma Orb Spring '20
Collector's Bundle.
Hedera Fey
Vozzy
Hedera Fey will be available in the Fall and Winter '20 plasma orb seasons, to then be swapped out on February 25th, 2021.
The Plasma Orb Fall '20 Bundle can be purchased from
OMG Imports
for 3,500

through November 24th, 2020.
Not familiar with the contents of a Plasma Orb Collector's Bundle?
---
Emoji Update!
Per usual, we'll be releasing new emojis inspired by the new crate sets!



Thanks
ghost
!
---
COMING SOON!

Common Review Surge [October15]

October Community Discussion [TBA]

2020 Reaping Ritual [TBA]
---
That's all for now, Volties! Hope you enjoy what our wonderful new crates have to offer. I know I'm just getting chills thinking about all the avatars that will be made with them!
Spark out!