Ark's profile
Ark
she/her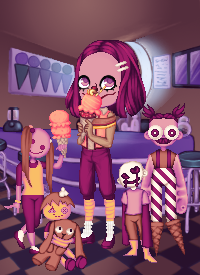 Video
4Minute is my favorite K-pop girl group and I've been sad since their disbandment. This is one of my fav songs and videos of theirs.
About
I'm a nostalgic 29 year old from Ohio who loves art and music.
(I came here after looking for something similar to
the old
Solia. My username on there was Arc and I recognize a few users from there on here!)
I like to draw, study Japanese, listen to music, and watch random things. I'm very nostalgic and love anything from the 90s-early 2000s.
You'll see me posting around randomly throughout Voltra, or
mostly
see me posting in my spam threads.
I'm pretty shy and don't know how to hold a conversation well at times, so I usually keep to myself. But feel free to talk to me, I'm really friendly!
Also, I love giving compliments! I tend to compliment avatars a lot.