Valentina's profile
Valentina
She/Her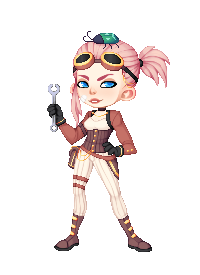 Equipped Items

About
Huh? Oh! Hey, I didn't hear you come in, I've been down here for hours working on my latest invention. What's cool about it is if I'm not EXTREEEEMELY careful there will be catastrophic disaster and chaos and-
Oh, who am I? Right! Valentina Tinker, at your service! Well, not really, like I said, I'm busy. But nice meeting you!
You can usually find me at my workshop,
Reduce, Reuse, Reinventions
. I always say there's no such thing as trash, so bring me your junk and we'll turn it into something worthy of the mantle. Or whatever, I don't care what you do with it after.
I also hang out in my airship with my roommate
Bernard
, but he's always using it as an excuse to get rid of my cool stuff? Dude's a
pest!
He's always
bugging
me!
Anyway, back to work! Oh... Should this be turning red? Uh oh!